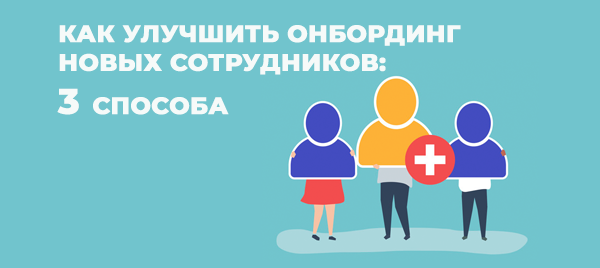 Back
(Русский) Как улучшить онбординг новых сотрудников: 3 способа
Date published:
26.09.2019
Исследование 264 новых сотрудников, опубликованное в журнале Academy of Management, показало, что первые 90 дней работы (часто называемые испытательным сроком) имеют решающее значение для построения взаимопонимания с компанией, руководством и коллегами. Когда уровень поддержки со стороны команды и руководителей был на высоком уровне, у новых сотрудников формировалось более позитивное отношение к своей работе. В тоже время, когда поддержка не предлагалась, происходило обратное, и сотрудники работали менее продуктивно.  

Чтобы повысить репутацию вашей компании, создать сильный и прогрессивный коллектив постарайтесь улучшить процесс онбординга новых сотрудников. В этой статье мы поговорим о трех способах, которые помогут вам в этом.
1. Способствовать социальной интеграции
На первых этапах знакомства с новым сотрудником, важно по максимуму вовлечь его в социальную среду компании. От того, как вы презентуете новому работнику свою компанию и коллектив зависит многое. Поэтому, в первые дни работы новичка, представьте компанию как социально ответственную и гостеприимную. Как это можно сделать:
Социальная корпоративная культура это то, что сплачивает коллектив  и разрушает барьер в общении между сотрудниками и руководителем. Делает работу более эффективной, обеспечивает комфорт.
2. Содействовать обмену знаниями в корпоративной учебной среде
Чтобы ускорить период адаптации сотрудников и ознакомить их с работой нужно создать среду обмена знаниями. Таким образом, новые сотрудники смогут узнать о компании и ее политике прямо от своих коллег. Более того, они не только получат доступ к корпоративной информации, но и смогут извлечь уроки из прошлых успехов и неудач. В этом может помочь внедрение системы дистанционного обучения персонала.
LMS облегчает новым сотрудникам доступ к рабочему контенту с любого устройства. Это позволяет руководителям перенаправлять и обновлять контент для разных курсов, тем самым экономя время и затраты на разработку нового курса для каждой новой группы сотрудников. Также LMS имеют функции среза знаний и отчетности, которые помогают компаниям узнать, сколько сотрудников прошли обучение и насколько успешно.
3. Использовать фидбек, чтобы улучшить процесс адаптации
Билл Гейтс однажды сказал: «Нам всем нужны люди, которые дадут нам обратную связь. Вот как мы становимся лучше». 
Новые сотрудники – это возможность для компаний узнать, что хорошо работает в процессе адаптации, а что нет. Фидбек от новичков в форме оценки, опроса или встречи в конце обучения помогут вам прогрессировать, улучшать методологию и компетенции. Следует поощрять честность и учитывать справедливую критику со стороны тех, кто проходит процесс онбординга. Это поможет создать более дружественную атмосферу в коллективе.  Фокус-группы могут успешно заменить личные встречи для получения  обратной связи, поскольку большинству сотрудников удобнее высказываться в рамках группового обсуждения, а не напрямую.
От того как организован процесс адаптации в вашей компании зависит многое. При эффективном онбординге новые сотрудники запоминают больше информации, социально интегрируются в коллектив, имеют желание работать и развиваться в вашей компании. Напротив, неэффективный процесс адаптации демотивирует новичков и такие сотрудники не задерживаются надолго в компании. Это происходит из-за недостатка желания развиваться на определенной должности и отсутствия информации, которая может помочь развить здоровую профессиональную связь на каждом этапе работы.
Источник: elearningindustry.com
The LMS Collaborator Team
Content Manager LMS Collaborator
Всі записи автора
Try LMS Collaborator in action
Need guidance picking the right features for digitizing and automating your enterprise learning processes? We're here to help.