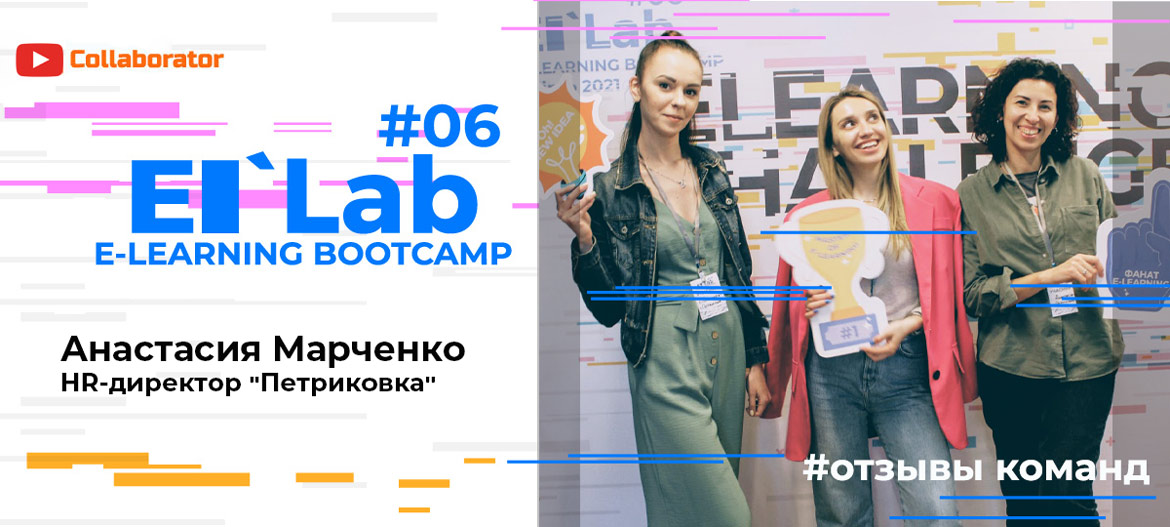 Back
«Зустріч з менторами, експертами своєї роботи, і їх погляд на твою роботу з боку, відкриває великі можливості» — Анастасія Марченко про менторів El`Lab
Date published:
08.09.2021
Для того, щоб нові учасники мали уявлення про результат, який дає El`Lab, в останній день івенту ми записуємо фідбек від наших команд. У цьому матеріалі своїм відгуком поділилася Анастасія Марченко (HR-директор компанії «Петриківка»). Анастасія розповіла про роботу з менторами, переваги формату та очікування від заходу.

Про менторів:
Ми в дикому захваті. Ти отримуєш у багато разів більше, ніж очікував і розраховував отримати. Зустрічі з людьми, які є експертами своєї роботи і їх погляд на твою роботу з боку — це відкриває великі можливості. Ментори всі різні та дають інформацію на 360°.
Формат:
Дуже добре, що темою першого дня була стратегія, тому що сьогодні моя команда генерує нові ідеї, і я постійно повертаю їх до стратегії.
Дуже класно продумана програма заходу — все поступово. Наші ідеї тепер укладаються в канву і загальні рамки, а не є просто класними вигадками. А завтра буде дуже важливий і відповідальний день, який допоможе оцінити наскільки те, що ми виписали та реалізували в якості проекту, буде працювати.
Очікування:
У нас не було ніякої картинки та ніяких очікувань. Ми були, як абсолютно чистий аркуш. У вас дуже класний формат. Вчора ментори говорили, і я теж це підтримую, що треба давати ще час на спілкування команд між собою. Я не знаю чи буде це актуальним для всіх, але нам було б дуже цікаво.
---
El`Lab #7 бути! 18-20 травня 2022 року.
Залишайте заявки й ви будете першими, хто дізнається про деталі та відкриття реєстрації.
---
We invite you to visit our pages in social networks.
There you will find many tips and tricks for corporate training that were not included in the blog.
Всі записи автора
Try the system in action
Nothing replaces practical experience. Try the LMS Collaborator now to solve your issues for free