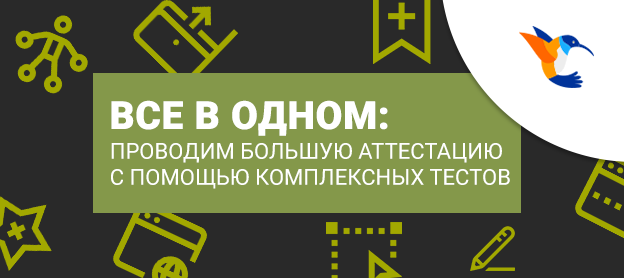 Back
(Русский) Все в одном: проводим аттестацию с помощью комплексных тестов
Date published:
06.06.2019
Вот уже полгода прошло, как сотрудники компании Colibrus получают новую информацию на Портале знаний. Кроме этого, они посещают тренинги, воркшопы, конференции и офлайн курсы. Что ж, наши пользователи совсем привыкли к такому режиму обучения, как и мы привыкли к регулярному обновлению платформы.
Близится пора летних отпусков, а вместе с ним Час А – большой аттестации по пройденному материалу. Создание нового огромного теста нам не подходит, потому что нужны варианты тестов для многих подразделений, которые будут отличаться только небольшим количеством вопросов. Не хотелось просто дублировать тесты и менять в них по несколько вопросов.
Мы решили попробовать провести аттестацию с помощью Комплексных тестов.


  Здравствуйте, с вами Ольга Моторна, администратор платформы "Портал знаний Colibrus". Недавно мы провели "весеннюю" аттестацию и готовы поделиться её результатами и некоторыми наблюдениями.
Основное их отличие от обычного тестирования в том, что комплексные тесты могут включать в себя темы из разных учебных заданий, пройденных раньше. Таким образом можно определить общие знания пользователей после прохождения длительного обучения или изучения нескольких курсов, программ или других учебных заданий.
Перед сезоном летних отпусков наши сотрудники закончили ряд обучающих программ по разным направлениям. Например, работа с MS Excel или общение с покупателями магазинов. Некоторые программы занимали большой промежуток времени — три месяца, а одна рассчитана всего на две недели.
Сложно пересмотреть все и составить новый тест, правда же? 🙂
Из списка загруженных на портал тестов мы выбрали несколько по основным темам. Потом создали два комплексных теста (для разных категорий сотрудников), но с похожими настройками.
Назначили пользователям и дали срок на выполнение — два дня. Вот так прохождение комплексного теста выглядит для сотрудника:
Результат тестирования — общая оценка по тесту и промежуточные результаты по темам, что входят в состав комплексного теста. Можно настроить задание на повторное прохождение, улучшив результаты по неуспешно пройденным темам. Мы не стали этого делать, ведь пользователи проходили эти курсы не так давно и вряд ли успели "забыть" информацию.
Итог порадовал: с помощью комплексных тестов мы увидели не только общий результат аттестации, но, что важно, и картину по каждой теме. Т.е. даже если оценка всего теста высокая, мы видим, что, например, одна тема (у пользователя — инструменты презентаций) проседает.
Теперь мы можем делать выводы о том, на что делать упор в дальнейшем и какие курсы/темы надо повторить.
Разбор полетов:
При сборке комплексного теста главное не выбрать слишком много тем,

Не стоит растягивать аттестацию на длительное время,

По итогам аттестации можно оценить качество вашей учебной программы и, при необходимости, скорректировать её.
---
---
P.S. Все персонажи вымышлены, любое совпадение с реально живущими или жившими людьми случайно.
The LMS Collaborator Team
Content Manager LMS Collaborator
Всі записи автора
Try LMS Collaborator in action
Need guidance picking the right features for digitizing and automating your enterprise learning processes? We're here to help.