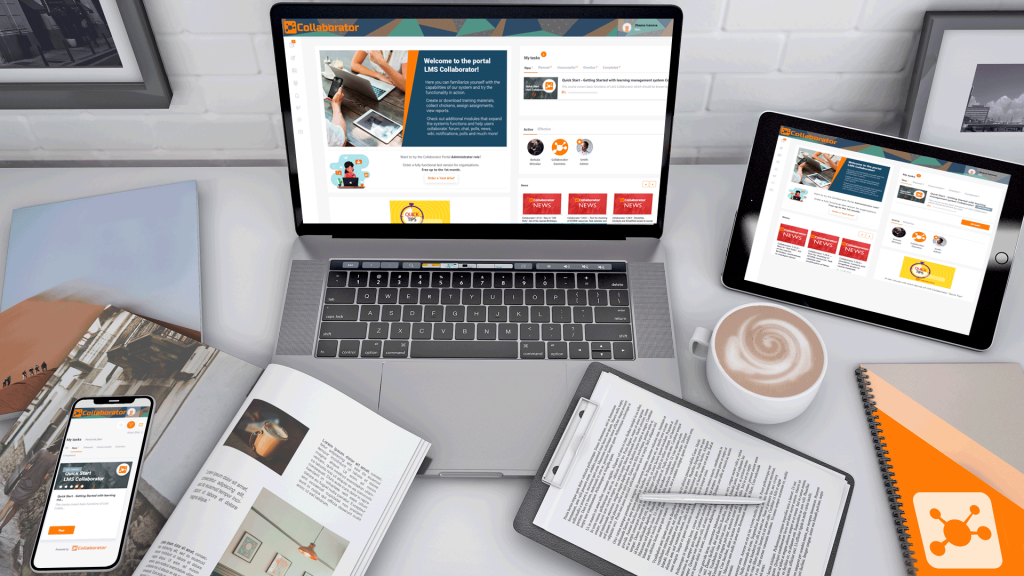 Atrás
About LMS Collaborator
Fecha de publicación:
18.06.2013
LMS Collaborator is an e-learning platform for staff development and cooperation. It was released in 2013 by the Ukrainian developers team. The purpose of development – the creation of a technically modern alternative to the existing systems of distance learning in companies and organizations. Collaborator – is one app that works effectively on all modern devices and browsers, and practically independent of the software of user environment. LMS Collaborator is based on the REST API methodology, which allows it to quickly, flexibly and without conflicts integrate into any information ecosystem.

Collaborator in Latin means the Employee. We focus on use of the platform for adult learning and constantly adjust the development under the relevant objectives of the process.
Collaborator is also called learning management system that reflects only one aspect of the use of our platform. On the other hand Collaborator is a system of automated knowledge creation organization which is growing, filling with resources and internal communications in the course of training and employee engagement.
Collaborator homepage contains different widgets to display operational information.
Numerous add-on modules extend the functions of the system and facilitate user collaboration: work tasks tracker, forum, chat, polls, as described in 360 °, a news ticker, wiki-encyclopedia, alerts and voting, and many others.
In addition, there is also the inner side of the system – data collection. Collaborator captures all user actions, their activity in learning and interaction. Constantly accumulated a large database and its information can be effectively analyzed with the help of dynamic reports and infographics that reflect the specified data sampling conditions.
Collaborator system is already successfully established itself and is used by many companies, has partners in the USA, Germany, China and Kazakhstan. Our clients include such well-known brands such as MTI, Brocard, Omron Healthcare Ukraine, Bank Trust, EasyPay, Prozorro and others.
The ideology of the traning organization
The main purpose of Collaborator platform – implementation of educational portals for companies and organizations. Education is focused on a conscious adult contingent.
Therefore, based on the learning process the principle of learning by setting goals. Each employee receives a list of educational tasks to be executed. This may be a self-study books, videos or articles on the Internet, the performance of the test or filling in the survey questionnaire, passing a training course or an entire training program.
Completing quests can be limited in time or indefinite leave. Each job contains training resources, which are essential for its formulation or execution.
Teaching materials and resources
The Collaborator Educational Resources are separate system objects. This approach allows us to use them repeatedly in different jobs and with different parameters. For example, the same test can be used in one job permission verification answers, and the other with a time limit, and fewer problems in the sample.
The resource can be a file (video, audio, e-book), a web page, website, link to the Internet, the SCORM module, and so on, any object that can be displayed by the browser. Certain types of training resources that are designed not only to view, are tests, integration tests and surveys. Of the resources, tests and surveys collected Courses. The combination of courses and resources, tests and surveys form the curriculum.
Collaborator includes built-in tools for creating, converting and editing Resources, Tests and Surveys. Audio and video files are automatically converted to the format that works in all browsers and on all devices. Presentation MS Power Point and PDF formats will be converted to web format, MS Word documents and Google Docs – in a web page, etc.
Knowledge base
All published resources form Collaborator Knowledge Base portal. Resources allocated to the tree of categories and additional markings differ.
Besides resource knowledge base automatically switches on all the news article wiki-encyclopedia and forum posts.
Contextual search the Knowledge Base allows you to quickly find the desired information. This takes into account the selected category and given the label of resources and access rights to the current user's information.
Communication tools and gamification
At the Collaborator, there are many ways to organize communication and communication between users:
ads and notifications about events;
commenting on educational tasks;
forum discussions;
polls and vote;
formulation and discussion of work tasks (TaskTracker);
webinars;
chat.
In the Collaborator regularly develope and integrate gamification tools:
counting school rankings, success and ranking of educational activity of the user;
assessment of user comments and posts – the formation of an expert rating;
scale achievements and user rating;
and other instruments.
Reports and performance monitoring of users
Colloborator collects and stores detailed information about user activity and their learning outcomes. In real time, you can learn
how the progress on the date of certification units,
the speed with which viewed the training materials,
some test questions for users were the most difficult or easy,
what resources are the most popular,
that the portal user uses most often
and much more
The architecture of the data warehouse allows you to get reports of any complexity. Built-in filtering and infographics tools help to quickly analyze data and find answers to some questions of the learning process.
Main technical features
A stack of technologies and concepts on which is built Collaborator: PHP, NodeJs, nginx, Redis, MySQL, ElasticSearch, HTML5, CSS3, AngularJS, Boorstrap CSS, REST API.
What it does:
modern web technologies that allow Collaborator system to equally run on desktop
computers and mobile devices;
security course materials, and ways of access to the educational portal;
no need to install additional software on user workstations;
easy scaling solutions, high productivity and performance at high loads;
flexible and fast retrieval of information;
clean, ergonomic and user-friendly interface;
and flexible integration with any data exchange information systems.
Приглашаем вас посетить наши странички в соцсетях.
Там вы найдете множество советов и фишек корпоративного обучения, которые не вошли в блог:
Всі записи автора
Pruebe nuestro sistema en tiempo real
Nada reemplaza la práctica. Experimente ahora nuestro LMS Collaborator para resolver sus problemas de forma gratuita.